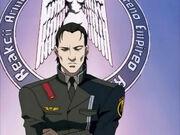 (功刀 仁
Kunugi Jin
)
Japanese seiyū: George Nakata
English voice actor: John Gremillion First appearance: Episode 1
Jin Kunugi is the stern and quiet commander of TERRA's military operations. He prefers delegating tasks to his subordinates and "managing by exception." Kunugi was an officer of the Japan Self-Defense Forces, under the command of Kuki Masayoshi, who ordered him to perform a nuclear strike on the Mu in the town of Sendai. His daughter Michiru was in the city and subsequently killed in the strike, and Kunugi became estranged from his wife. It is falsely stated in the anime that his wife is his daughter. It is revealed that Kuki was acting on behalf of the Mu (or some element within the Mu government), who wanted the humans to attack, providing justification for their further plans.
Kunugi eventually stays behind after Nirai Kanai is evacuated and activates a Jupiter device there, sacrificing himself to kill Kuki and destroy Largo, the Dolem which was bound to Kuki. In other versions In the movie, Kunugi's conflict with Kuki is removed, substituting conflict with Bähbem. Kunugi thus takes part of the role Futagami had in the TV series.
In the manga, Kunugi also appears as the commander, but with little background and drama surrounding his character.